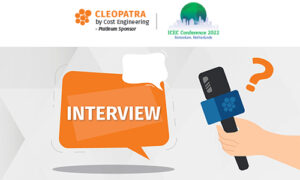 As the ICEC World Congress 2022 (12-15 June) is approaching with Cleopatra Enterprise being the Platinum Sponsor of the event, we wanted to get into the depths of this glorious partnership between Cost Engineering, the owner company of Cleopatra, and ICEC & DACE. We sat down over a cup of coffee with Aafje Jansen-Romijn (Managing Director, Cost Engineering) and Stefan Bakker (Senior VP Business, Cost Engineering) for them to share personal insights and memories.
Keep reading the interview below to get the full perspective into the shared roots of Cleopatra Enterprise and the upcoming ICEC event that focuses on the theme 'Predictable projects in a dynamic world' with different topics to cover each conference day.

Thank you both for being here and willing to talk about the assets of this partnership. We know the ties between Cleopatra Enterprise and ICEC & DACE date way back, so could you briefly explain your connection with ICEC and DACE?
A.J-R.: As the Cleopatra team, we have a long-lasting relationship with ICEC and DACE, the host of this year's ICEC event, because we have a common goal: sharing the cost engineering knowledge and ensuring the continuous improvement of the project controls community.
Since our beginning, we have had a very good relationship with DACE (Dutch Association of Cost Engineers). We worked together often: Our consultants have always been one of the main teachers for Cost Engineering Certification courses and other related courses organized by DACE. They have been invited to speak at the DACE events and contact meetings many times. In addition, Cost Engineering contributed to many SIG (Special Interest Groups) workgroups, the DACE labour norms, the price booklet etc. Our founder, Ko des Bouvrie, has even won 2 awards for his contributions: the ICEC award for all of his contributions in the field of cost engineering and the DACE-penning also awarded due to his international contributions!
On the days that we, as a company, organised our Cost Engineering Consultancy Events (which were known as our "User Days"), DACE always joined us as well.
S.B.: As Aafje also mentioned, we have a close connection with ICEC and DACE for a long time. As the Cleopatra team, we truly believe in bringing the cost engineering profession forward through sharing knowledge and providing people with the tools to make them successful. Both ICEC and DACE have been at the forefront of this vision and therefore have been close partners for many years.
And you decided to bring this connection legitimate this year by being the Platinum Sponsor of the ICEC event as the Cleopatra team. How did you exactly come to this decision?
A.J-R.:  The ICEC (International Cost Engineering Council) event  rotates over the different continents, and it is in Europe only once every 8 years. It has been 24 years since ICEC was organized in the Netherlands. Having the chance to contribute to this event, with Cleopatra being the Leading Project Cost Management Software and Cost Engineering the leading Cost Engineering Consultancy Company, is unmistakably evident for us.
S.B.: After the COVID restrictions, we are now finally able to meet up with peers and colleagues in our profession again. We have learned that personal interaction and events like this are still incredibly valuable in today's world. Therefore, this is a perfect opportunity for us to contribute to the ICEC event by being the main sponsor and helping to make this event possible. The fact that the event this year takes place in our hometown of Rotterdam is, of course, a nice bonus!
What makes the ICEC event special for your company and for you personally?
A.J-R.: The last time ICEC was in Rotterdam, the Netherlands, was in 1998. This was the first international congress I went to, which was 100% related to the different aspects of cost engineering. Attending the different lectures, talking to other estimators and cost engineers made me realize even better what a great profession we have. All those sessions with people who were enthusiastic about what they were doing and proudly sharing their knowledge gave me the acknowledgment that I wanted to keep working in the field of cost engineering for the rest of my career.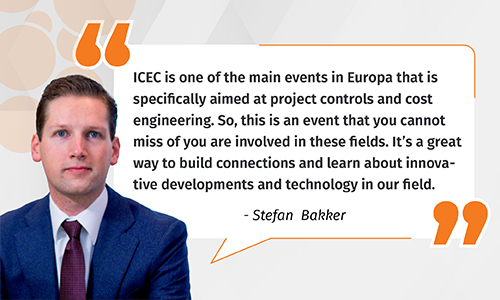 What are your expectations from the ICEC event?
S.B.: I think we will see a lot of excitement and energy from the participants, as for many of us, it will be (one of) the first events in a while. Being able to learn about the latest developments in our profession and new technologies will be great. Furthermore, I'm personally looking forward to the social interactions and catching up with people that I haven't seen in a while.
A.J-R.: Indeed, it will be about getting together with your peers, sharing knowledge with each other, learning and getting energized!
Why do you think project controllers and cost engineers should attend this event?
S.B.: This is one of the main events in Europa that is specifically aimed at project controls and cost engineering. So this is an event you cannot miss if you are involved in these fields. It's a great way to build connections and learn about innovative developments and technology in our field.
A.J-R.: I agree, the cost engineering world is relatively a small one as a part of the engineering world. Listening and talking to other professionals will help you grow further in your professional career.
Interested in the ICEC World Conference 2022? Do not forget to register via: Registration – ICEC Conference 2022 (icecworldcongress.com)
---
What is the ICEC World Congress?
ICEC World Congress 2022 is a global conference of the International Cost Engineering Council (ICEC) to be held in conjunction with and hosted by the Dutch Association of Cost Engineers (DACE). For its 25th edition, the congress will be delivered in a hybrid event format, combining a live, in-person conference experience, with a virtual environment. The participants of the event physically will get the full ICEC Congress experience with keynote presentations, talk shows and networking opportunities; while the online participants get to consume live content, connect with the industry professionals, virtually visit the exhibition and engage through live Q&A sessions. This year's theme ''Predictable Projects in a Dynamic World'' is aimed to deepen the understanding by discovering how changing factors, such as innovation, environmental challenges and economic developments make it necessary to be predictable in a dynamic world.
ICEC represents more than 300.000 ICEC Professionals (Cost Engineers; Project Controls Professionals; and Quantity Surveyors), in more than 40 Associations working in more than 120 Countries. The ICEC Professionals work globally in amongst others the building, infra, petrochemical, steel, mining, food, manufacturing industries.
Related resources
A selection of user stories from our customers, explaining the value that Cleopatra Enterprise adds to their projects.
Keeping a project under "control" can be a very challenging process. Project controllers need to be alert and…
Read blog article
Challenges and need of an integrated system In project execution, this is no more evident when the management…
Read blog article