The renewable energy industry is booming. Dedicated to harnessing natural resources for clean and sustainable power. It plays a crucial role in combating climate change and achieving a sustainable future, including nuclear energy. As technology advances and renewable energy costs decrease, new opportunities arise. Project control teams must be prepared. Cleopatra Enterprise is specifically designed to assist energy companies in navigating project controls challenges and capitalizing on current opportunities in today's environment.
Fully integrated platform
Covers the entire project lifecycle. Smart integration with 3rd party tools.
The innovative SaaS solution
ISO 27001 certified state-of-the-art technology.
25+ years of experience
Digital technologies combined with deep industry expertise.
Challenges

in the Industry
Today's challenges in the power industry include transitioning to a more sustainable, reliable, and efficient energy system. Reducing greenhouse gas emissions and combating climate change are paramount. The shift from fossil fuel to low-carbon alternatives like renewables and nuclear power poses a challenge. Also, aging power grid infrastructure necessitates modernization for enhanced reliability, resiliency, and flexibility. Addressing these challenges through upgrades, smart grid technologies, digitalization and automation is vital.
What does
Cleopatra Enterprise

offer?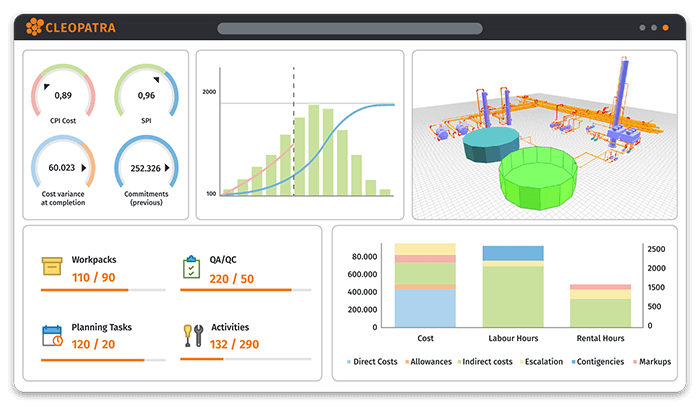 High-Quality Cost Estimates
With Cleopatra Enterprise, you achieve success with accurate project estimation. Create various cost estimates, from factor to detailed, while minimizing data handling and errors. Access a comprehensive cost database within Cleopatra, ensuring high-quality estimates for your projects. Increase efficiency and streamline your processes from now on.
Beyond Estimating: Project Controls & Benchmarking
Get instant insights into costs, quantities, durations, and revenues. Measure progress for accurate forecasting and avoid delays and unexpected costs. Use Cleopatra Benchmarking to extract metrics from executed and ongoing projects, identify trends in cost drivers, compare project performance, and enhance future cost estimates. It enables you to make informed decisions for future projects.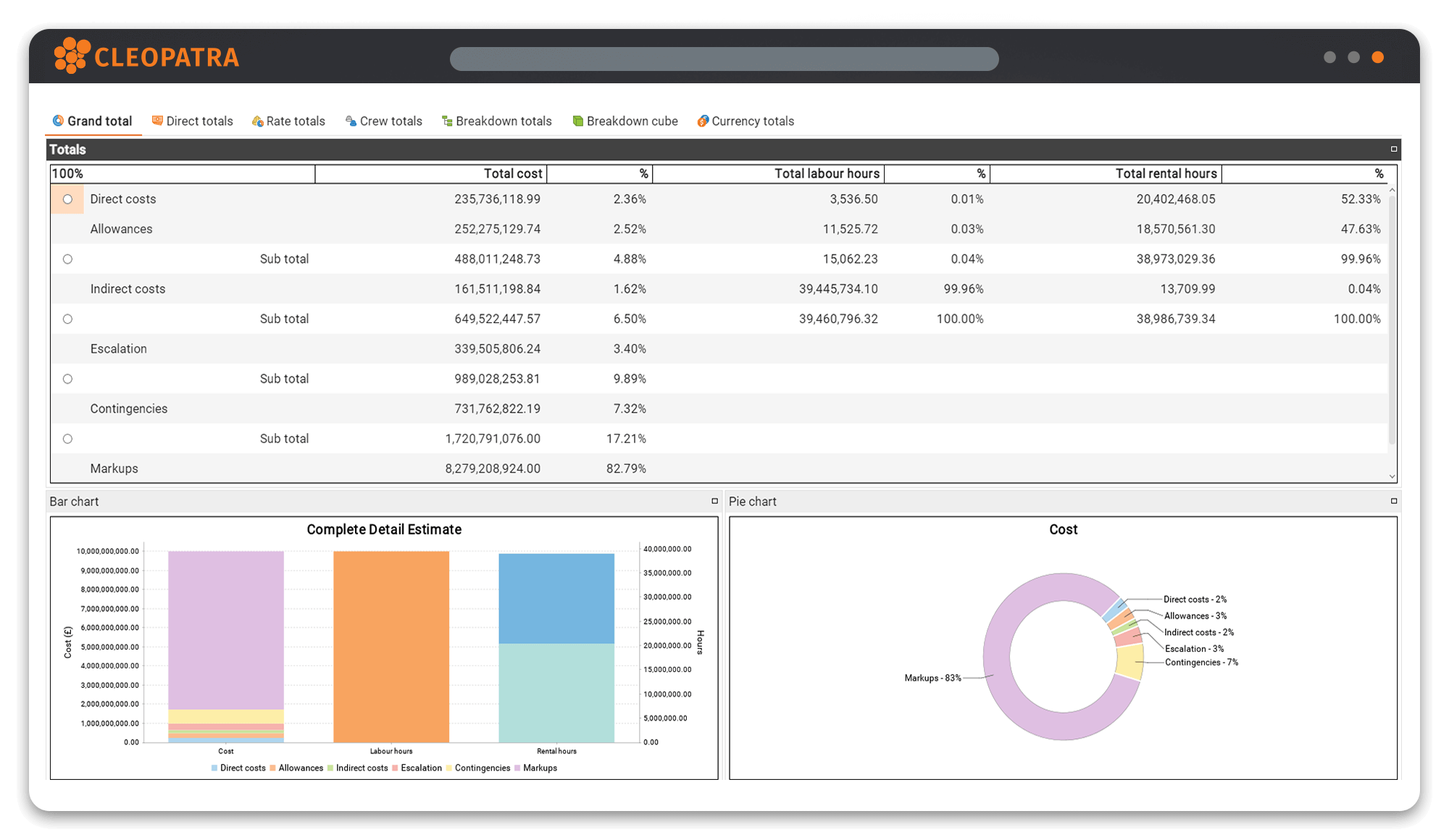 Standardization
Integrate your favorite tools like Excel and Primavera P6, reducing manual data entry and providing a single source of truth. Save time, money, and mitigate risks with digitalized processes and reduced human errors. Enhance collaboration between field and office teams using the mobile app, granting real-time project updates and eliminating manual data entry. Achieve efficiency, consistency and enjoy the effortless user experience.

Ready to start?
Request a live demonstration and experience the benefits Cleopatra Enterprise can have for your organization.