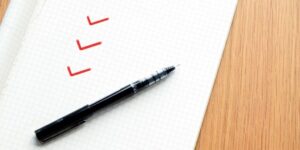 Working in an office environment without software is unthinkable nowadays. Everyone uses Microsoft Office and most of us run at least 2 or 3 products dedicated to our business. At some point in our careers we even get involved in choosing new software to do our job better and faster.
In choosing new software, there will always be a checklist for evaluation. But most of the time this list is far from complete.
The things everyone thinks of:
Does it tick all management's boxes?
Does it look user friendly?
What is the price?
Is there a phone number I can call?
The things you should think of (but mostly don't):
Does it tick all my boxes? What if I need it to do something else in the future?
Who designed it? What is their affinity with my work field?
What are the costs when I need changes or need extra licenses?
What happens when I call the phone number?
To be able to do your job you need software that thinks with you, supports your business processes and continuously develops along with you. In other words, you need to be able to discuss your daily activities with a software company that actually listens to your and others' ideas. A software company that will share its approaches with you and is willing to design to your needs. You need a software company that does more than putting a product on the market with a "good luck!" manual and a "most common scenario" helpdesk.
A changing workforce: cost engineers
In most companies, cost controllers and cost estimators are a relatively new addition to the workforce, but especially in times where every penny counts, they prove their worth. The roots of the company I work for are in the Oil and Gas industry, but the field of Cost Engineering is spread over more industries; not just Petrochemical, but also Offshore, Energy, Chemical, Pharmaceutical, Mining and so on. Most industries have a slightly different approach to cost engineering and cost management but we all speak the same language. The Cost Engineering field was first developed within the Oil and Gas industry. Therefore it is the most advanced and it has a lot of information to share. Goals and purposes may vary; common sense however remains common sense.
Not many companies who create software for cost management and cost engineering can state that they are created by and for cost engineers. Many organizations are looking for software that will help them create more effective and accurate budgets because of the economic situation and low oil prices. To those we can only say it has always been our goal to find the best estimates at the highest levels of transparency. We do this not just because of temporary economic situations. We do it because we're passionate about it.
Something to add to this story or do you want more information? Contact us.
Related resources
A selection of user stories from our customers, explaining the value that Cleopatra Enterprise adds to their projects.