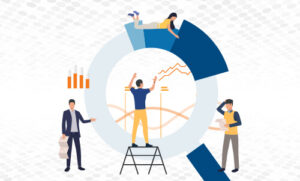 Project control is much more than just the execution phase of a project. It covers the full project life cycle from the initial planning phase towards measuring the actual cost performance and project completion.
In these various activities, there are different departments involved. In larger projects, project managers, project engineers, and project controllers often cannot handle the amount of data being thrown at them from various quarters. This then leads to a 'rolling-up' of data and loss of data clarity. Typically, information sharing between these departments is very limited.
We argue that sharing this information is vital to overcome the root causes of cost overruns and schedule delays, and improve project performance.
How to apply an Integrated Project Controls approach
To apply an Integrated Project Controls approach, the integration of data within the various departments and disciplines of project controls – namely cost estimating, scheduling, cost management, progress measurement, change management, forecasting, and benchmarking is necessary.
Herein, the first step is to explore the whole project landscape. The Total Cost Management (TCM) framework of the AACEI can help project controllers see the project landscape as a whole. Every step of the TCM framework is connected to the other and has an improvement mechanism inside.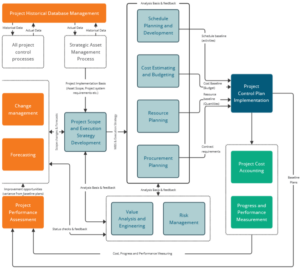 AACEi – The Total Cost Management (TCM) framework
You can apply an Integrated Project Controls approach by connecting the processes starting from the estimating phase until benchmarking in an analogy with the well-known plan-do-check-act (PDCA) cycle. The cyclical character of this approach ensures that there is continuous quality improvement. This continuous improvement cycle will lead to a higher chance of project improvement by learning from the executed projects.
The role of project controls software
In this process, you need the right system. Limiting the number of tools you use and choosing one professional and dedicated project controls software is the first step to integration.
Using a dedicated tool like Cleopatra Enterprise allows for integration with the scheduling tools, ERP systems, and design tools, controlling and monitoring the cost, benchmarking project data using big data analytics. This will prevent that isolated disciplines work as silos and will lead to total integration.
Implementing an Integrated Project Controls approach through a dedicated project controls software maximizes the learning curve from managing projects. This ensures making informed decisions and creates continuous improvement for your project controls environment. Furthermore, the integration will lead to less project failure and an improvement of project performance.
Are you curious if you work in a company with a good integration across all disciplines? In this article we will continue on the topic of integration, and you will learn how to determine where your organization stands in terms of integrated project controls. You will understand in which areas you could improve your integrated project control process.
Related resources
A selection of user stories from our customers, explaining the value that Cleopatra Enterprise adds to their projects.
Project control is much more than just the execution phase of a project. It covers the full project…
Read blog article
Project control is much more than just the execution phase of a project. It covers the full project…
Read blog article