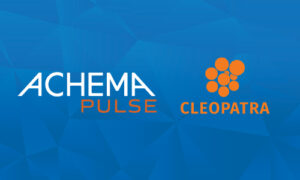 We're proud to be exhibiting at ACHEMA Pulse 2021. ACHEMA Pulse is the digital flagship event for the global process industry – focusing on chemical, pharmaceutical and biotech. The digital event allows you to expand your business network, exchange ideas about innovative solutions and get inspired. 
During the event more than 900 influential companies will exhibit their products and newest developments. As a player in the chemical and pharmaceutical sectors, Cleopatra Enterprise, the advanced project controls software system, is among these companies. The very complex and diverse nature of the projects in these sectors makes it essential to have proper cost estimating and cost management in place. Cleopatra Enterprise enhances the effectiveness and accuracy of cost-related activities leading to increased profitability.
Throughout the entire event you can visit the virtual booth of Cleopatra Enterprise to ask your questions regarding Cleopatra Enterprise or project controls in general.
The platform is open all June and live on 15 – 16 June. Get your ticket to join the event. For more information about ACHEMA Pulse, the program of the event, or tickets, click here.
Related resources
A selection of user stories from our customers, explaining the value that Cleopatra Enterprise adds to their projects.